It was never reported, so far as I know, that Hubert H. Humphrey ever backed down from a fight.

Surely that was true of his experience in the political arena, but I suspect it was true of his life in general. He just wasn't the sort of fellow to be pushed around.

So it should be no surprise to anyone that, when I got him looking down the barrel of my gun, rather than flinch, raise his arms and plead for mercy, Humphrey did what came natural to him. He drew on me.

Had I known that threatening a U.S. Senator with bodily harm was a federal crime, I wouldn't have done it. But I was only five years old. So I was immune from prosecution.

Senator Humphrey and his entourage stopped at my family's home at the suggestion of my uncle, his campaign manager. It was 1954 and Humphrey was running for reelection. My mother did her best in the kitchen on short notice to provide for the some 40 visitors. Meanwhile, my brothers and I viewed the strangers from beneath a blanket we had draped over some straightback chairs in the living room. Our fort.

Now to the gunfight. I took careful aim with my popgun at the stranger sitting on the edge of the davenport. I thought I had him dead to rights when suddenly he drew his index finger, aimed it at me and fired.

Heavy ballistic metal in the hands of Rambo and Terminator produces a lot of carnage. But in its own way, in the world of political debate and impassioned point-making, Hubert Humphrey's index finger was probably more lethal.

We exchanged gunfire. No one was hit. No one was hurt. No one was arrested. After a time, the senator and his people were gone, the makeshift fort was dismantled, and I was off to bed. Humphrey survived to be reelected to his second term that fall.

This story was told to me by my parents. I don't remember any of it. But I like retelling the story.

Recently I had occasion to tell the story to Hubert H. Humphrey III, Skip Humphrey, the Senator's son. It was over coffee at the Cafe Un Deux Trois in the Foshay Tower in downtown Minneapolis, the city where his father was a celebrated mayor in the late 1940s.

I admitted to Minnesota's former Attorney General and candidate for governor that my position on the Second Amendment's right to bear arms is not what it was that day of the living room shoot-out with his father.

Not that I'm against that right. But, in the spirit of the famous thesis of historian Frederick Jackson Turner, I've come to terms with the fundamental fact that my frontier days are over.
A Capitol Hill Rally
The first time I remember seeing Humphrey in person was the day he came to my class at the University of Minnesota. The class was History of Race and Nationality, and the teacher was Allan Spear, later a long-time Minnesota legislator.
It was a few months after Humphrey had been defeated by Richard Nixon in the 1968 Presidential election. That election, many pundits say, was Humphrey's to win had the vote taken place a week or two later in November. He had the momentum when the votes were cast.
What impressed me about him was how tall he was, how well he carried himself, and how poised he was under pressure. Several African-American students put him on the spot. One stood up and shouted "I don't believe in second class citizenship!" "Neither do I," Humphrey replied just as emphatically, then, his voice trailing off, "Neither do I."
He meant it. His speech at the 1948 Democratic Convention, politically risky at the time, resonates today. Wisconsin Democratic Senator Russ Feingold, co-author of the McCain-Feingold Campaign Finance Reform Bill, pulled the spirit of Humphrey into his cause in a recent speech: "Why, instead of recalling the legacy of Senator Hubert Humphrey's 1948 convention speech in which he urged us to come out of the shadow of state's rights and into the bright sunshine of human rights, why instead of that must we contemplate a Democratic Party Trust reception, in the middle of the afternoon during the convention proceedings, sponsored by the Occidental Petroleum Association?"
I saw Feingold at a Capitol Hill rally for campaign finance reform while in Washington, DC last September. I was in town to participate in dedicating the web-portal link between Minnesota and the Zurich Region of Switzerland.
I went to meet a hometown friend who works at the Congressional Budget Office. We walked over to the west steps of the Capitol Building. A platform had been erected overlooking the mall and festooned with the materials of patriotism and protest.
The late-afternoon rally featured many campaign finance reform luminaries and celebrities including Feingold, his comrade-in-arms Republican Senator John McCain of Arizona, Minnesota Governor Jesse Ventura, cast members of the TV series West Wing, and the rock musicians Crosby, Stills and Nash.
But it was "Granny D" who stole the show. Otherwise known as Dublin, New Hampshire's Doris Haddock, Granny D is an 89-year-old great grandmother who had just walked across the country from Los Angeles to Washington, DC, at a pace of 10 miles a day, to promote her disgust with the current campaign finance system.
She recited the United States Code, Title 18, Chapter 11, Section 201: Bribery of public officials. Then she called on U.S. Attorney General Janet Reno to enforce it with respect to Congress. There is no evidence that General Reno complied.
As I write, Granny D continues her crusade by circling the Capitol on foot as the Senate debates the McCain-Feingold Bill.
After the rally, at the urging of my friend, I wended my way through the crowd to McCain, who my uncle knew many years ago when he was working in Washington. McCain remembered him.
I noticed the tiny bandage on his left temple. You couldn't help but notice it on a man who appears otherwise to be the embodiment of charisma, intelligence, and indestructibility. Exactly a month earlier, on August 19th, doctors at the Mayo Clinic in Scottsdale, Arizona had removed a small melanoma from his left temple in a five hour operation.
But McCain is a former prisoner of war and he knows how to bear scars, including political scars. He risks picking up more of these if his reform efforts fail.
It was the Hubert Humphrey -- Richard Nixon presidential contest of 1968 that led to earlier calls for campaign finance reform. They culminated in Congressional passage of the Federal Election Campaign Act of 1971. Yet President Nixon spent more than twice as much in 1972 as he did in 1968, while George McGovern, his Democratic opponent, spent more than four times what Humphrey did in 1968 and was still substantially outspent by the Republicans.
Even if McCain and Feingold are successful and their bill outlawing unregulated soft money is signed into law, history shows that questions concerning the role of money and politics "will continue to be a regularly recurring feature of our nation's political landscape." [Campaign Finance Reform: A Sourcebook, The Brookings Institution, 1997].
The indestructibility of that issue is a matter of settled law.
The moral test of a government
is how that government treats those
who are in the dawn of life, the children;
the twilight of life, the elderly; the shadows
of life, the sick, needy and the handicapped.

-- Humphrey Building
Health and Human Services
Washington, DC.
If I were a professor of pharmacy and had an interest in the history of pharmaceutical practice, I think I would encourage one of my more curious students to look into the relationship between the profession, politics and public service.
Perhaps this has already been done. I do know that the pharmacist has the highest public approval rating in terms of trust of any professional, higher than that of the clergy, higher than that of the physician. Public opinion surveys on this matter have been fairly consistent for at least two decades. What accounts for it? And does this quality transfer to advantage if the pharmacist should choose to throw his hat into the political ring?
I don't know the answer. I do know that the pharmacist has been evolving steadily for at least a century. Linda Strand, distinguished professor at the University of Minnesota College of Pharmacy and a winner of the American Pharmaceutical Association's Remington Medal, has been tracing the evolution.
Strand and a colleague write that pharmacy entered the twentieth century performing the social role of apothecary, preparing and selling medicinal drugs. "During this traditional stage the pharmacist's function was procuring, preparing, and evaluating drug products. His primary obligation was to ensure that the drugs he sold were pure, unadulterated, and prepared secundum artem [according to art], although he had a secondary obligation to provide good advice to customers who asked him to prescribe drugs over the counter."
Soon the preparation of pharmaceuticals was taken over by the pharmaceutical industry. The prescriptive powers for therapeutic agents passed to the physician. The traditional role of the druggist began to wane. In the view of many it was a necessary step for the profession to achieve the respectability it currently has and for clinical pharmacy to emerge as an advanced scientific discipline toward the end of the 20th century.
One of the key elements in this transition was the 1951 Durham- Humphrey amendment to the Food, Drug and Cosmetic Act. Co-sponsored by Representative Carl Durham of North Carolina and Senator Hubert Humphrey of Minnesota, the act restricted the most effective therapeutic agents to prescription from over-the-counter status.
For the first time since the dawn of America's long love affair with patent medicines like Lydia Pinkham Tonic and unproved therapeutic agents, drug classification and labeling were required by law. And for the first time physicians rather than patients were the target of sales and marketing efforts by pharmaceutical manufacturers.
The son of small town pharmacist in Doland, South Dakota, Humphrey helped to inaugurate serious drug regulation through the Durham-Humphrey amendment. What made the legislation necessary was the rise of research-based pharmaceutical manufacturing, and that was the legacy of the son of another small town druggist, Henry Wellcome of Garden City, Minnesota, the founder of Burroughs Wellcome & Company in London in 1880 and the first pharmaceutical research laboratory in 1894. Wellcome was awarded the Remington Medal in 1934.
The drug store Humphrey's father ran failed, a casualty of the Great Depression. A dutiful son, Humphrey attended the Capitol College of Pharmacy in Denver, graduating in 1933. The same year he became a registered pharmacist.
But Humphrey's career as a practicing pharmacist was short lived. The pharmacist's "second obligation" described by Linda Strand, that of providing good counsel to people, got the best of him. For the rest of his life he dispensed it liberally, secundum artem, in the Senate chamber, on Capitol Hill, and along Main Street.
Hubert H. Humphrey -- 1911-1978
The death of Hubert Humphrey has left an enormous void. For pharmacy as a whole, of course, the loss is of one who was probably the finest spokesman the profession has ever had in government. For NARD [National Association of Retail Druggists], the loss is even more painful. In time, there is always another spokesman. Replacing friends is another matter entirely.
And Hubert Humphrey, more than anything else, was NARD's--and pharmacy's--friend. He was one of us, in fact as well as in spirit. He understood us and never lost sight of what our battles were all about....
His frequent appearances at NARD Legislative Conferences were for the same reason. Hubert Humphrey cared. There was a vital role for pharmacy in America, and he was not about to let anyone forget it.
NARD Journal, March 1978
_______________
Life is lived forward, but understood backward.
I was in my high-school geometry class when someone said President Kennedy had been shot. Our teacher confirmed it, attributing the deed to "some radical."

I also remember where I was when word came that Hubert Humphrey had died. I was in Brainerd with friends, driving along a residential street that night of January 13, 1978, listening to the car radio.

Unlike Kennedy's death, I was well prepared for Humphrey's ever since the bold headlines in the local papers reported that he had "inoperable cancer" the year before. Pictures of his emaciated face told the story.

His funeral was worthy of a head of state. President Jimmy Carter eulogized Humphrey by saying: "From time to time, our nation is blessed by the presence of men and women who bear the mark of greatness, who help us see a better vision of what we can become. Hubert Humphrey was such a man."

In this tribute, Carter made up for his gaffe just days before when he said of the just deceased Humphrey: "I am speaking of a great man who should have been President and would have been one of the greatest Presidents in history, Hubert Horatio Hornblower." Captain Horatio Hornblower, of course, was a fictional character created by novelist CS Forester. Given Humphrey's volubility, the slip was understandable, if unfortunate.

Sometimes I wonder how Humphrey would have been received if he had visited another class I was taking that winter quarter in 1969, the "Western Political Philosophy" course taught by the renowned, beloved and controversial political scientist and pacifist Mulford Q. Sibley. He would not have been received as he was in Professor Spear's class, respectfully even with contentious moments.

The Vietnam War insinuated itself throughout the general discussion of Plato, Thomas Aquinas, and John Locke. Sibley was uncompromising. "How do we get out of Vietnam?" he asked the class rhetorically. "You hear that all the time. Well, you put the soldiers back on the ships and bring them home. That's how you get out of Vietnam."

How would Humphrey have handled it, there in that lecture room in Anderson Hall on the West Bank, if he had come to Sibley's class and faced the music? We were primed to express our moral outrage. It would have been the protesters of the '68 campaign shouting him down all over again.

"I dearly liked, loved, cherished, and thought the world of Hubert Humphrey," said Howard E. Shuman, a legislative and administrative assistant to Illinois Senator Paul Douglas and Wisconsin Senator William Proxmire. "He probably made fewer compromises for a man who got as far as he did than anyone else."

But Lyndon Johnson had his number. In the Civil Rights debates of the late 1950s, Shuman said, Humphrey was the go-between with the Civil Rights forces and Johnson, the Senate majority leader. "The Civil Rights groups would meet, discuss, decide, and send Hubert as their envoy to Johnson," Shuman said in an interview in 1987. "Invariably Hubert would come back having lost his trousers. Johnson had his number. For some reason, although no one else could pick him apart, Johnson could have his way with him."

Johnson had his way with him on Vietnam too. Like Carter, Humphrey himself once made a terrific slip when talking about the war: "No sane person in the country likes the war in Vietnam, and neither does President Johnson."

But to say that someone consistently lost his trousers to someone else is not the same as saying he backed down from the fight. So my lead above is secure, at least for now.

Besides, I treasure the story of my living room shoot-out with Hubert Humphrey too much to belabor it with analysis of Cold War politics, anti-war protest, and political sizing-up.

I'm just glad no one was hurt.

    --William Hoffman    hoffm003@tc.umn.edu

Disclaimer: The opinions expressed herein are the writer's own.
---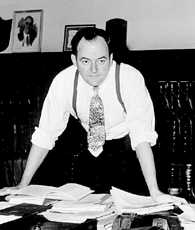 Minneapolis Mayor Hubert Humphrey in his office, circa 1948. From the Hubert H. Humphrey Photograph Collection, Minnesota Historical Society.