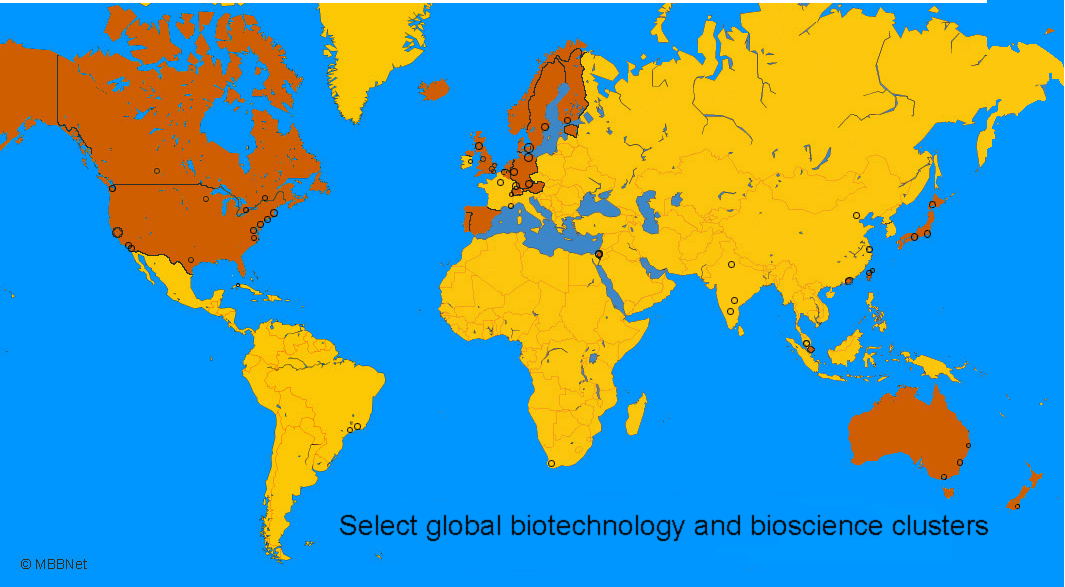 Countries colored in brown rank highly in the Growth Competitiveness Index 2004 - 2005, World Economic Forum. Black circles represent select biotechnology and life sciences clusters.
North America

Seattle, USA
San Francisco, USA
Los Angeles, USA
San Diego, USA
Saskatoon, Canada
*Minneapolis/St. Paul/Rochester USA
Austin, USA
Toronto, Canada
Montreal, Canada
Boston, USA
New York/New Jersey, USA
Philadelphia, USA
Baltimore/Washington, DC, USA
Research Triangle NC, USA


Central America / South America

West Havana, Cuba
Belo Horizonte/Rio de Janeiro, Brazil
Sao Paulo, Brazil


United Kingdom / Ireland

Glasgow-Edinburgh, Scotland
Manchester-Liverpool, England
London, England
Cambridge-SE England
Dublin, Republic of Ireland


Continental Europe

Brussels, Belgium
Medicon Valley, Denmark/Sweden
Stockholm/Uppsala, Sweden
Helsinki, Finland
Paris, France
Biovalley, France/Germany/Switzerland
BioAlps, France/Switzerland
Sophia-Antipolis, France
BioRhine, Germany
BioTech Munich, Germany
BioCon Valley, Germany


Mideast

Israel


Africa

Capetown,
South Africa

Asia

Beijing, China
Shanghai, China
Shenzhen, China
Hong Kong, China
Tokyo-Kanto, Japan
Kansai, Japan
Hokkaido, Japan
Taipei, Taiwan
Hsinchu, Taiwan
Singapore
Dengkil, Malaysia
New Delhi, India
Hyderabad, India
Bangalore, India


Oceania

Brisbane, Australia
Sydney, Australia
Melbourne, Australia
Dunedin, New Zealand

Definitions
Biotechnology: Biotechnology is the use of cellular and biomolecular processes to solve problems or make useful products. [Biotechnology Industry Organization - BIO]
Bioscience/Life Science: pharmaceuticals, biotechnology, medical devices, R&D in the life sciences. [Devol et al., 2005]
Clusters: Clusters are a geographically proximate group of interconnected companies and associated institutions in a particular field, including product producers, service providers, suppliers, universities, and trade associations. [Cluster Mapping Project, Institute for Strategy and Competitiveness, Harvard Business School]
* Cited no. 8 for Total Life Sciences Current Impact by Devol (2005) defined as pharmaceutical, biotechnology, medical devices, and R&D in the life sciences. Minneapolis/St. Paul/Rochester is principally a medical device cluster.
References
Map is a Mercator projection that exaggerates the size of areas far from the equator.
Global biotechnology clusters map published by: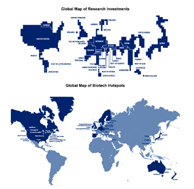 Andersen, Jørn Bang, "Establishment of Nordic Innovation Centres in Asia?" by the Nordic Innovation Centre for the Nordic Council of Ministers, Copenhagen, 2008.
Dimova, Maria, Andres Mitnik, Paula Suarez-Buitron and Marcos Siqueira. "Brazil Biotech Cluster: Minas Gerais" [PDF] Institute for Strategy and Competitiveness, Harvard Business School, Spring 2009.
Encyclopedia of Globalization, Routledge, November 2006.
Hamdouch, Abdelillah and Feng He. "R&D Offshoring and Clustering Dynamics in Pharmaceuticals and Biotechnology: Insights from the Chinese Case," [PDF] The Spirit of Innovation Forum III, May 14-16, 2007.
Loh, Melvyn Wei Ming, "Riding the Biotechnology Wave: A Mixed-Methods Analysis of Malaysia's emerging Biotechnology industry" [PDF] Victoria University of Wellington, New Zealand, 2009.
Murray, Fiona and Helen Hsi, "Knowledge Workers in Biotechnology: Occupational Structures, Careers & Skill Demands" [PDF] MIT Sloan School of Management, September 2007.
Rinaldi, Andrea. "More than the sum of their parts? Clustering is becoming more prevalent in the biosciences, despite concerns over the sustainability and economic effectiveness of science parks and hubs,"EMBO reports, February 2006 [PDF]
Royer, Susanne, "Crossing-borders: International Clusters: An analysis of Medicon Valley based on Value-Adding Web " [PDF] University of Flensburg, July 8, 2007.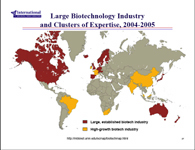 Salerno, Reynolds. "International Biological Threat Reduction at Sandia," Sandia National Laboratory, July 31, 2006 [PDF]

Global biotechnology clusters map cited by:
About.com: Biotechnology Clusters in North America
BioSpectrum India "Fostering Growth Through Bioclusters," November 2005
"Biotechnology clusters: Rationale, development, and emerging trends," Yuri Friedman, PhD., New Economy Strategies, presentation at the Tepper School of Business, Carnegie Mellon University, Pittsburgh, PA. April 5th 2005. [PDF]
"Do's and Don'ts of Global Biotech Fundraising," Jay A. Lefton, BIO 2005, [PDF]
"Geographic Clustering in Biotechnology: Social Networks and Firm Foundings," [PDF] Dirk Fornahl and Olav Sorensen, in Handbook of Bioentrepreneurship, 2008
"Industrial Biotechnology: Development and Adoption by the U.S. Chemical and Biofuel Industries" United States International Trade Commission, Washington, DC., July 2008 [PDF].
"Innovation in Global Industries: Biotechnology" National Research Council, Washington, DC., 2008.
"Mobile talent or privileged sites? Making sense of biotech knowledge worker mobility and performance in Sweden," [PDF] H. Mattsson, Soc. Geogr., 2, 115-123, 2007

---
William Hoffman:

"Mapping the Landscape of Bioscience Innovation" [PDF] Association of University Research Parks (AURP) International Conference, Minneapolis, Minnesota, Sept. 17, 2010.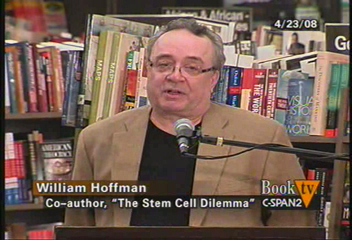 Click photo for C-SPAN Book TV
discussion of The Stem Cell Dilemma

---
Global Maps of Human Technological Development
Maps created with GMT software
Updated 2/28/12
William Hoffman - hoffm003@umn.edu
Disclaimer: This work is a communications project of William Hoffman, a non-faculty employee of the University of Minnesota, and not the University of Minnesota. It is meant to help inform public discussion of stem cell research and human development.
---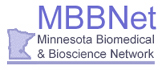 The Library of Congress
is preserving parts
of MBBNet through its
Web Archiving Project.
---